Simplex Spelling HD- English Reverse Phonics for iPhone/iPad (Simplex Spell Phonics 1) Review  
Version Reviewed: 1.5.0
Seller: Pyxwise Software Inc.
Review: 4/5 stars
Description: This award winning educational app is appropriate for all ages, from toddlers to adults, who need to improve spelling and phonics decoding abilities.
Our favorite feature of Simplex Spell Phonics 1:
We especially like using the "Hint" button, even when hints are not necessary. This option allows the user to see a dropdown list of available letters that could make the desired sound to complete the word. Only viable options are colored, and nonviable choices are grayed out.
What GeekGirl liked about Simplex Spelling HD:
The app helps users see phonics in action in real time, as they put together words. Combined with the tactile stimulation of using the iPad or iPhone's touch screen and the audio feedback, this multisensory experience really helps reinforce learning.
The virtual tiles don't pose a problem for users with small motor control issues, like using physical letter tiles or cards.
Vowels are coded in red, consonants in white, to help users remember to include vowels (very useful for phonetic spellers and those with dyslexia).
Words are used in the context of a sentence. This helps users decode contextual meaning to improve vocabulary and is also helpful when the app is used in conjunction with other exercises, like handwriting and Speech Therapy.
Supports multiple users and tracks progress for each user.
Settings support changing letter tile order from ABC to QWERTY layouts.
Instantaneous feedback shows the user if a placed letter is correct (green background) or incorrect (red background).
What we'd like to see in future versions of Simplex Spelling HD:
We would like to see the font available in adjustable settings, or at least slightly larger for those with impaired vision. Using devices such as the iPad or iPhone easily creates eyestrain and a larger font would alleviate eye fatigue. Perhaps a different color combination in the design would also be less strenuous on the eyes.
The option to email results to a tutor or teacher would be a definite positive addition. This would also make it easier to track words that frequently give a user trouble and make them into an intensive study list.
This app didn't have any rewarding graphics or exceptionally fun sounds following the completion of a list, like some other apps have. A fun mini-game, little cartoon, or drawing area would make completing a list more encouraging for young users.
What the GeekyMonkeys (ages 7 and 11) had to say about Simplex Spelling HD- English Reverse Phonics
The lists are short, which is good.
The app is fun to use and easy to understand.
We like the hint button choices.
CrazyMikesApps YouTube Review of Simplex Spelling HD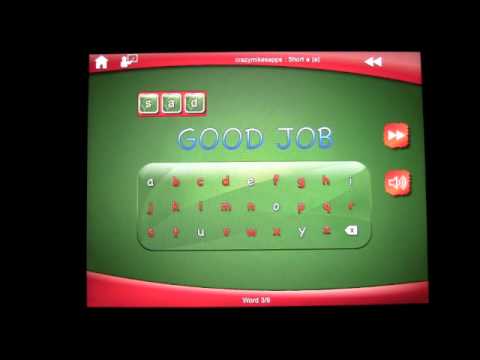 Read more about Pyxwise Software Inc. and how this app was developed. Mom Creates iPad App that Leaves Kids Spell Bound